Broadcast distributor and SI Video Progetti has announced that OB7, the new outside broadcast van it has designed and built for production company L'Opera Broadcast Video Service, will see its first live action in the first week of September. It has been under construction since late Spring.
L'Opera specialises in the production of television coverage for a broad range of sports – football, volleyball and motor racing among others — as well as concerts, entertainment events and conventions. The company's clients include key players in the national and international broadcast industry such as the BBC, CCtv, CNN, LA7, Mediaset, NHK, RAI and Sky.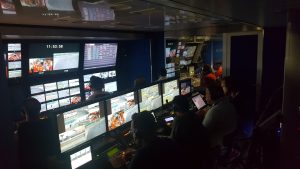 The challenge faced by Video Progetti was that the new OB van for L'Opera was destined for a very specific application: it would be shared concurrently by two broadcasters to cover the same football matches. The national rights owner would use it for in-country coverage, while the other one would be broadcasting to its international viewers. Each would also want to deliver some streams in 4K/UltraHD resolution.
"That meant that we needed an OB van with some pretty spectacular capabilities – and that's what Video Progetti delivered," said Michele Infante, co-founder and CEO of L'Opera. "OB7 is a real achievement for us being our first dual client outside broadcast van that is going to meet any demand for key sports events. We love it – it's everything we hoped it would be – and the whole L'Opera team is looking forward to working with it."
The new van is equipped with UHD/HDR technology — and OB7 is also designed to deliver 100% availability, with complete mirroring/redundancy of all equipment for easy failover in the event of equipment malfunction. Furthermore it's built with two independent power distribution systems.
"We're very lucky," Infante continued. "We're passionate about the industry, passionate about sport, passionate about what we do – and passionate about being able to contribute to the economy of our region. We love what we do."
L'Opera's OB7 is 14 metres in length (it weighs 39,000kgs fully loaded) that delivers up to 61 square metres of working space at full extension of its three unfolding walls. It can accommodate a team of 35. The van comprises seven production suites, each with independent temperature control, with the only shared facility being the camera control room, from which up to 28 cameras can be controlled.
"We have been working with L'Opera for many years," said Carlo Struzzi, CEO of Video Progetti, "and we have grown together through generations of broadcast technology, helping each other develop the expertise and knowledge required for continued success in a dynamic and highly competitive industry.
"Each new customer requirement, each new technology and each new project has demanded more from us – OB vans aren't mass-produced like cars — and, each time, we have risen to the challenge. OB7 has been one of our most ambitious, most demanding projects – and both we and L'Opera are delighted with the outcome."